Police report identifies teenager killed in Scottsdale crash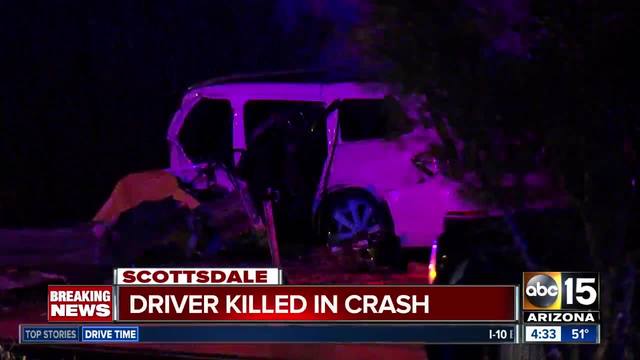 SCOTTSDALE, AZ - A teenager killed in a crash in Scottsdale on January 18 has been identified as 16-year-old Trevor O'Day, according to a newly released police report.
Scottsdale police said officers responded to a report of single-vehicle crash on Scottsdale Road, just north of Doubletree Ranch Road at 1:00 a.m.
According to police, O'Day's vehicle was traveling northbound on Scottsdale Road when it hit a light pole. The vehicle was torn in half upon impact.
O'Day was pronounced dead at the scene.
Scottsdale police said speed was a factor in the crash. It is unknown if impairment played a role.
According to the police report, an officer noticed an SUV driving in circles in a gravel lot near Scottsdale Road and Royal Palm Road.
Police pulled the vehicle over, but O'Day sped away from the traffic stop, according to the report. At one point, an officer estimated O'Day's speed in excess of 100 MPH when he crashed into a pole along Scottsdale Road north of Doubletree Ranch Road.
According to the report, there was no police pursuit after the initial traffic stop.
Reached by phone on Monday, O'Day's father says the teen lived in California and was into cars and trucks. A makeshift memorial of crosses and candles now sits at the site of the crash.