A destructive storm rolled through Lawrence and into the Kansas City metro on Tuesday evening, damaging homes and uprooting trees in counties around the Kansas City metro and south of Lawrence.
PHOTOS: Damage reported in Lawrence, Leavenworth County after storm
At 8:30 p.m., a tornado warning for Clay and Ray counties in Missouri expired. All other warnings had expired, though a tornado watch remained in effect for the metro until 10 p.m.
The Clay County Sheriff's Office tweeted that storm damage was being reported east of Kearney, but no injuries had been reported.
A confirmed tornado was located near Excelsior Estates around 8:20 p.m., moving northeast at 30 miles per hour, according to the National Weather Service in Kansas City.
@KCTV5 Debris falling from the sky in smithville, mo pic.twitter.com/uzm9A5CiiU

— NettyMc (@netty23) May 29, 2019
The storm also left behind damage in Leavenworth County. At one Linwood home, a workshop garage was completely destroyed, with only the door frame left standing.
Only thing left standing to this Linwood, Kansas homeowners workshop garage is the doorframe.... @arothfield with tornado damage coverage tonight at 10pm on @41actionnews pic.twitter.com/izMSxWOw3P

— Giovanni Garcia (@giovanniggarcia) May 29, 2019
At another home in Linwood, owners said the house they had lived in for 14 years was now unlivable.
This house is now unlivable. Owners of the home say they have lived here 14 years and everything is just gone. pic.twitter.com/UaUMzC4RKk

— Jordan Betts (@JordanBettsTV) May 29, 2019
First responders in Linwood told 41 Action News that only minor injuries had been reported from the storm. Stretches of Kansas 32 were expected to remain closed through Wednesday.
Homes in the Bear Lake neighborhood in Bonner Springs also were destroyed in the storm. Officials there said that travel was not advised Tuesday evening due to power outages and tree debris.
Just pulled up to this destroyed home near Bear Lake in Bonner Springs @41actionnews pic.twitter.com/CKdiYchD6m

— Tom Dempsey (@KCTomDempsey) May 29, 2019
Wyandotte County officials said late Tuesday that there were no reports of injuries or significant damage in the area, but there were reports of power outages, uprooted and damaged trees and structural damage to buildings in Bonner Springs, where the storm appeared to have the biggest impact.
In Lawrence, police tweeted that officers did not see "major structural damage" within city limits but that large trees, power lines and debris were strewn along roads on the southeastern edge of the city. Some roadways were impassable, police said.
U.S. 59 south of Lawrence reopened after it was closed due to an overturned truck. The Kansas Department of Transportation said it did not anticipate any more closures on highways in the area.
Recent video of the tornado damage in Lawrence KS @weatherchannel pic.twitter.com/aGluT7KvNb

— Stacy Birmimgham (@sgbirmingham) May 29, 2019
< p="">
More than 15,000 customers in the Lawrence area were without power late Tuesday. Westar Energy and Kansas City Power and Light crews were assessing the damage in Lawrence and areas to the east.
The National Weather Service in Topeka said that a tornado was reported south of Lone Star shortly after 6 p.m. It was on the ground moving toward southeast Lawrence around 6:20 p.m.
The storm reached Linwood and Bonner Springs before 7 p.m. It then moved toward the Kansas Speedway and the Legends Outlets in Kansas City, Kansas and continued east.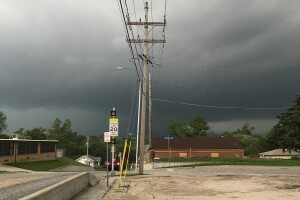 A storm rolls through Bonner Springs, Kansas, around 7 p.m. Tuesday.
Time lapse of the storm.
Looking north from downtown at Charles B. Wheeler Downtown Airport. #kcwx pic.twitter.com/6u3Phirc3p
— Kevin (@kj_10_) May 29, 2019
At 9 p.m. Tuesday, the airfield at the Kansas City International Airport was closed because of storm debris, including tree limbs and "pieces of structures," the airport said in a tweet. Maintenance crews were on site to clear the debris.
Various departing flights out of KCI were canceled or delayed due to the storm. Around 7 p.m., the airport moved people into the parking garage tunnels to shelter in place. They were given the all-clear at 7:45 p.m.