Phoenix PD says 2-year-old with signs of abuse dies at hospital, caregivers arrested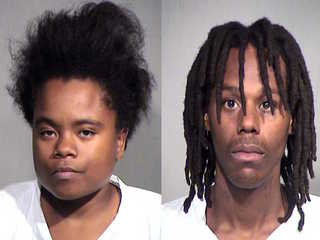 PHOENIX - Phoenix police arrested two caregivers after a child found with bruises from head to toe died at the hospital Saturday morning.
According to police officials, officers responded to reports of an unresponsive child near 16th Street and Indian School Road around 9:30 a.m.
When officers got on scene, caregivers told police that the 2-year-old girl had not been responsive. Fire personnel arrived on scene and began life-saving measures.
The girl was taken to Phoenix Children's Hospital where she was pronounced dead, police say.
Court paperwork obtained by ABC15 reveals that medical staff reportedly told police that the girl had, "bruising starting at her forehead, continuing down her body to the end of her feet."
Detectives arrested the child's caregivers, 28-year-old Tayran Slash and 21-year-old Sharonta Adams.
Slash and Adams were indicted July 19 for first-degree murder and 8 counts of child abuse.
If you suspect a child is being abused, the Arizona Department of Child Services has resources available to report the issue to a social worker. You can call the Arizona Child Abuse Hotline at 1-888-SOS-CHILD (1-888-767-2445), and will be asked for information about the child, as well as the nature of your concerns. You can also get more information from DCS about reporting abuse or neglect online.