PHOENIX — The redevelopment of Paradise Valley Mall received approval from Phoenix City Council on Wednesday.
Macerich, who owns the mall and several other malls around the Valley, and RED Development put in a request to rezone the 91-acre property to allow for the building of residential and commercial buildings, including apartments, office space, a grocery store, restaurants and retail stores.
ABC15 reported on the rezoning request and potential of the redevelopment plans in November and shared conceptual renderings of what the redevelopment could look like in December.
Alan Stephenson, the director of the city's planning and development department, previously told ABC15, citing the preliminary plans he saw, that the development would be a combination of Desert Ridge and Kierland Commons, mixing both lifestyle and commercial elements.
He told ABC15 in an email on Wednesday that demolition of the mall would begin with the Sears department store and could start as early as the spring or summer. He said construction of the first phase was expected to begin in the fall.
Macerich hasn't officially announced its plans to redevelop the shopping center or a construction timeline, but in a previous statement to ABC15, a spokesperson said: "Paradise Valley Mall has been part of this attractive Phoenix neighborhood, and part of the Macerich portfolio, for more than 40 years. For some time, as the shopping center landscape has been evolving, Macerich has been evaluating a range of development opportunities for this large, well-positioned property."
"As of now, Macerich is evaluating future redevelopment scenarios that will be a great fit for this community and respond to market demand," the statement said.
ABC15 reached out to Macerich Wednesday afternoon for comment on the City Council's approval.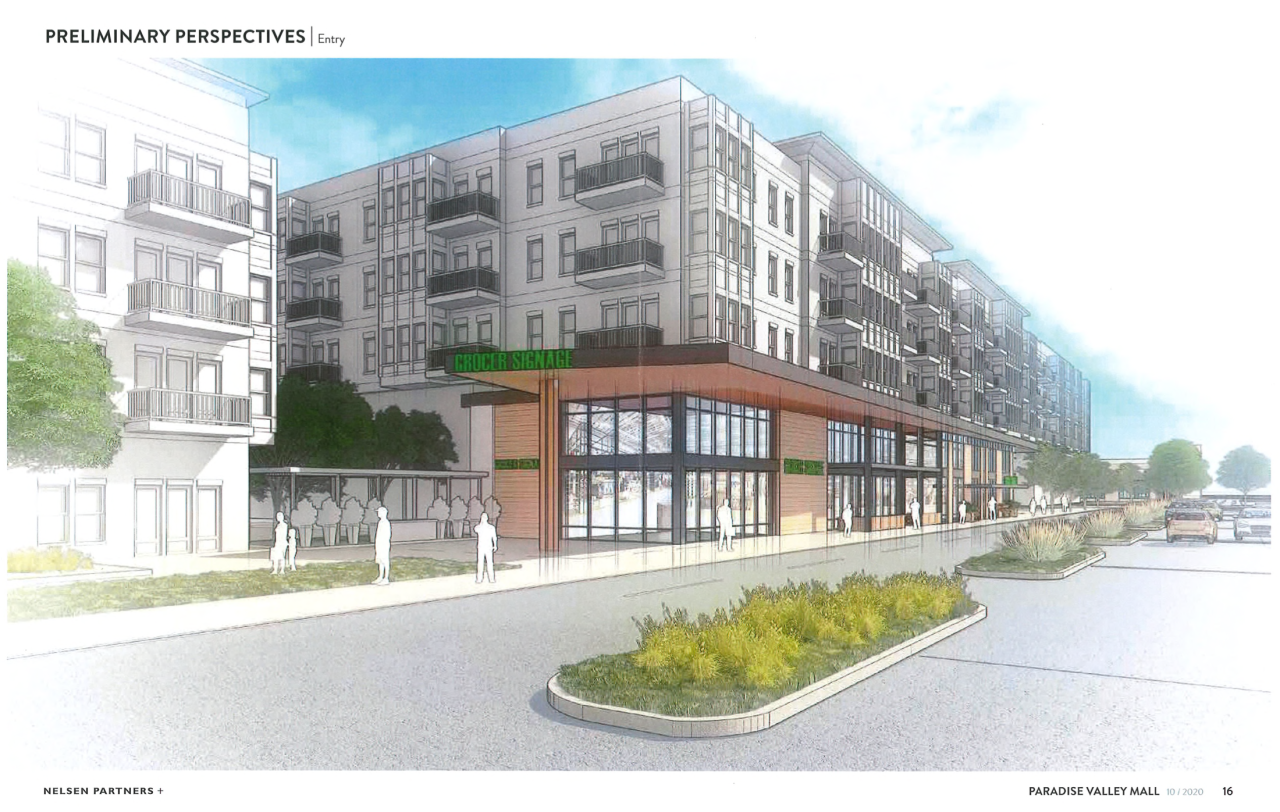 In recent months and years, nearly all of the mall's anchor tenants have either closed or announced their plans to close, and several stores inside the mall have since gone out of business.
Sears has already closed. Dillard's and Macy's have announced their plans to close. The Picture Show movie theater closed in January after 10 years. Chompie's plans to close its restaurant in the spring and will relocate to a larger space near 32nd Street and Cactus.
Costco, the parking structure, and the Mesquite Library are expected to remain where they are and are not part of the redevelopment, according to a release shared on Councilman Debra Stark's Facebook page. The mall falls within the district she represents.
JCPenney previously told ABC15 that it owns the building it is housed in. It remains open and has not announced plans to close.
"PV Mall holds many memories and a sense of nostalgia for our residents. I am excited that the mall will be part of the fabric of the community for generations to come," she said in a written statement.
In a statement, Phoenix Mayor Kate Gallego said, "The redevelopment of Paradise Valley Mall will provide economic stabilization, not just to the immediate areas, but the surrounding neighborhoods as well."
Over the years and amid the increase in online shopping, the popularity of malls has shifted.
Metrocenter mall, at one time of the Valley's largest malls, permanently closed last year after 47 years in business. Both Costco and JCPenney shuttered their locations at Christown Mall. Sears and Nordstrom closed their stores at Chandler Fashion Center.
Editor's note: This story has been updated to include statements from Phoenix Mayor Kate Gallego, Councilwoman Debra Stark, and additional information about the project.