GOODYEAR, AZ — Authorities have released new information as detectives work to track down a homicide suspect on the run since last year.
The Maricopa County Sheriff's Office says Melkyseddek Munoz-Garcia abducted his ex-wife, Laura Hernandez, on June 8, 2018, from her workplace in Deer Valley. She tried to escape near the intersection of MC-85 and Estrella Parkway in Goodyear.
Munoz-Garcia chased her down in the road and used a gun to "publicly execute" her, MCSO said in a news release Friday.
Munoz-Garcia was first named as a suspect about a week after the shooting. MCSO says investigators have yet to track him down, but have determined he had a history of domestic violence against Hernandez, including an aggravated assault conviction from 2012.
Munoz-Garcia is originally from Chihuahua City, Mexico and still has family in that area. He may be working in construction or as an auto or motorcycle mechanic and has been known to pass himself off as an auto-broker, MCSO said in a news release.
He has used several aliases, including Melky, Octavio Olivas, Octavio Olivas Martinez, and Oscar Munoz.
He was last believed to be driving a 2001 white Ford Ranger (pictured below) extended cab with Arizona license plate BTV5380, which was registered to Hernandez.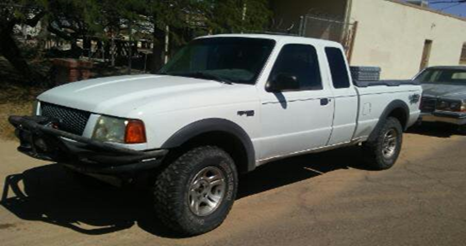 Anyone with information about Munoz-Garcia is asked to call the Maricopa County Sheriff's Office at 602-876-1011 or 602-876-TIPS (8477).
If you or someone you know is the victim of domestic or sexual violence, there are several local and national organizations offering resources. Anyone in need of immediate assistance should contact either the Maricopa County Shelter Line at 480-890-3039, the National 24-Hour Domestic Violence Hotline at 1-800-799-7233, the National Sexual Assault Hotline at 1-800-656-HOPE (4673), or the Arizona Coalition to End Sexual and Domestic Violence at 602-279-2900. A number of organizations are available 24 hours a day for anyone at risk of experiencing domestic or sexual violence. See a directory of domestic violence programs here.