Mesa PD: Officer-involved shooting near Southern/Crismon, suspect killed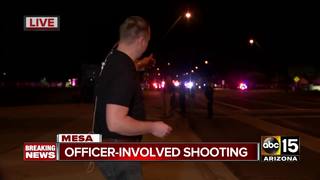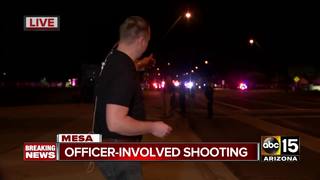 MESA, AZ - Authorities are investigating an officer-involved shooting in Mesa that left a suspect dead.
Mesa police received reports around 10 p.m. Friday about a shooting near Southern Avenue and Crismon Road outside of a QuikTrip convenience store.
According to police, 28-year-old Scott Farnsworth was seen acting erratically and waving a gun near Broadway and Crismon roads.
As officers were responding, a second witness reportedly saw the suspect walking south on Crismon past Skyline High School towards the convenient store.
Police then came into contact with Farnsworth just north of the store.
Officers reportedly gave verbal commands to the man to drop the gun. The suspect allegedly raised the gun toward officers when the shooting happened.
The Mesa Police Department said Robert Ravajo and Shawn Kurian, both hired on January 18, 2016, along with Katrina Teer, hired on July, 1, 2013, fired their weapons.
Life-saving efforts were performed on the man before he was pronounced dead at the scene, police said.