Valley father working to create committee focused on student safety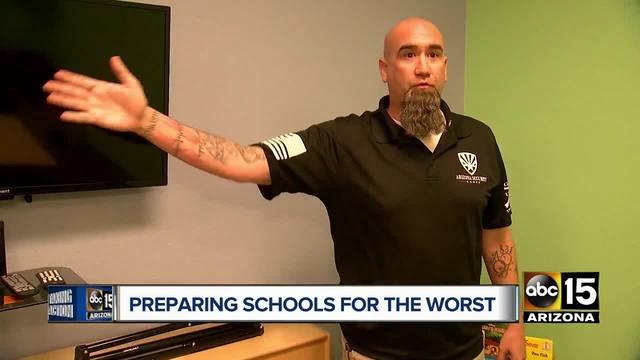 GILBERT, AZ - In light of the Florida shooting, a Gilbert dad wants to form a committee with the community to come up with a plan to keep students safe.
Like many parents right now, Marcelo Rios, father of 10-year-old twins, feels hopeless about the shooting at a Florida high school.
"There was part of me that said, 'here comes the arguing over gun control again' said Rios. "Let's stop all the debate. Let's get some action done instead."
Rios wants to take action and form a committee with law enforcement to come up with a plan to keep students safe at school.
Rios says he's calling Gilbert police and making himself available to form a committee comprised of parents, teachers, and law enforcement officers.

"At least try to make it better," said Rios. "If we can get ten parents at one of these meetings — it's going to be positive."
Rios wants to create a safe place where people can come, raise concerns and also learn about different ways to keep children safe at school.
"We've got to take control secure our kids in a positive way," said Rios.
Rios says he wants to hold the meetings once a month and focus on various topics like gun safety, mental health and social media.
"With technology, the way it is, we can't allow ourselves to be helpless," said Rios.
Rios hopes to have a meeting scheduled in the next few weeks. You can join the conversation here on Facebook.
Another Valley father, Michael Simon, is with Arizona Security Group and offers the following tips if you find yourself in an active shooter situation:
Turn off the lights. Being in a dark room could deter the shooter.
Get behind a wall or something that could block you from the shooter's sight.
If your door doesn't lock, put something in front of the door to block the shooter from entering (like a table, desk or filing cabinet)
Put something up against any windows to block the shooter from seeing inside.
"The more somebody is going to train, the more somebody is going to do things," explains Simon. "When the action happens, they'll be a lot more well-equipped."
Since 2014, Arizona Security Group has helped dozens of schools, churches, and businesses across the Valley. In just four years, Simon says demand has doubled.
For more information, head here.