Police: Suspect killed in shooting involving Phoenix officers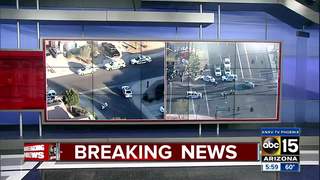 PHOENIX - Police say a suspect has died after an officer-involved shooting in the West Valley Thursday evening.
Just saw ambulance & fire truck leaving area of officer involved shooting w/ emergency lights on. 99th Ave & Broadway @abc15 pic.twitter.com/xmfpEpoL6Y

— John Genovese (@JEGenovese) February 23, 2018
Officers responded to a home near 99th Avenue and Broadway Road for a trespassing report at an unoccupied house. Police said a neighbor called 911 after seeing a man jump a back wall and go inside a home that was vacated the day before.
Authorities said the first officers to arrive found the man in front of the home.
"During that contact, the man displayed a weapon, a handgun, and shots were fired," said Phoenix Police Sgt. Jonathan Howard.
The man was hit and died from the injuries. Authorities did not immediately provide any further information about the suspect.
"Out of nowhere I just started hearing three or four gunshots and a bunch of yelling," said Javier Vidana, a neighbor who heard the gunshots. "We kinda panicked, kind of scared, my wife and I started getting our kids, we got in the living room, we hid em, and locked all the doors."
No officers were injured during the incident.
Another armored @phoenixpolice truck driving to area of officer involved shooting — neighborhood near 99th Ave & Broadway @abc15 pic.twitter.com/ODNXT0meXT

— John Genovese (@JEGenovese) February 23, 2018
Investigators entered the empty home and found several guns inside. Officials believe the suspect first broke into the house sometime earlier in the day Thursday.
"I'm not sure what other criminal conduct he might have been setting up to occur, but I'm sure that will be part of our investigation," said Sgt. Howard.