Phoenix police suspect foul play in Kiera Bergman disappearance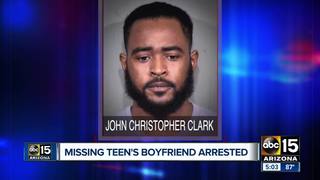 PHOENIX - UPDATE: Phoenix police say the body of missing 19-year-old Kiera Bergman was found in the West Valley on August 4. For the latest on the investigation into her death, CLICK HERE.
------------------------------------------------------------------------
Phoenix police now suspect foul play in the disappearance of 19-year-old Kiera Bergman.
Police told ABC15 that without Bergman or any more information they cannot say what exactly took place.
Phoenix police arrested Bergman's ex-boyfriend while interviewing him about Kiera's disappearance. A search of his car turned up several stolen IDs.
He was arrested and charged with 22 counts of aggravated felony theft and two counts of forgery.
Police have not given any indication that he has any connection to her disappearance. Kiera's family, however, remains suspicious.
"I believe he knows something," said her mother, Kiersten Bragg. "Whether he has done something or he knows what has happened."
Bragg says Clark was the last to see her daughter when he picked her up from work on August 4 and took her home. She says the two had a very rough relationship and were constantly breaking up.
Bergman was last seen at her home near 51st Avenue and Thunderbird Road on Aug. 4.
According to police, Bergman never returned home after leaving and has not been seen or heard from since.
Bragg said her daughter went to work that Saturday morning, and Clark picked her up but she never made it back to their apartment.
RELATED: Have you seen them? Missing children in Phoenix
Police are asking anyone with any information on her disappearance to call 480-WITNESS.