AHWATUKEE, AZ — A woman was killed and eight other people were taken to the hospital after a Thursday morning shootout in Ahwatukee involving federal agents.
Phoenix police say Homeland Security agents went to serve a search warrant as part of a human smuggling investigation near 48th Street and Elliot Road.
Around 9:45 a.m., the agents tried to stop a vehicle to make an arrest in the case. Police say the agents and the suspects shot at each other. Residents reported hearing at least 20 gunshots.
Of five people in the suspect vehicle, police said one, a woman, was pronounced dead at the scene. The four others suffered non-life threatening injuries and were taken to the hospital, according to Sgt. Tommy Thompson.
On Monday, police confirmed the woman's identity as 29-year-old Theresa Medina-Thomas.
Immigration and Customs Enforcement, which oversees Homeland Security Investigations, said in a statement Thursday afternoon that agents shot two suspects.
Four agents were also injured and hospitalized for medical evaluation. Police did not elaborate on the type of injuries for the eight people, though city councilman Sal DiCiccio, who represents the area where the shooting happened, said in a tweet two agents had been shot.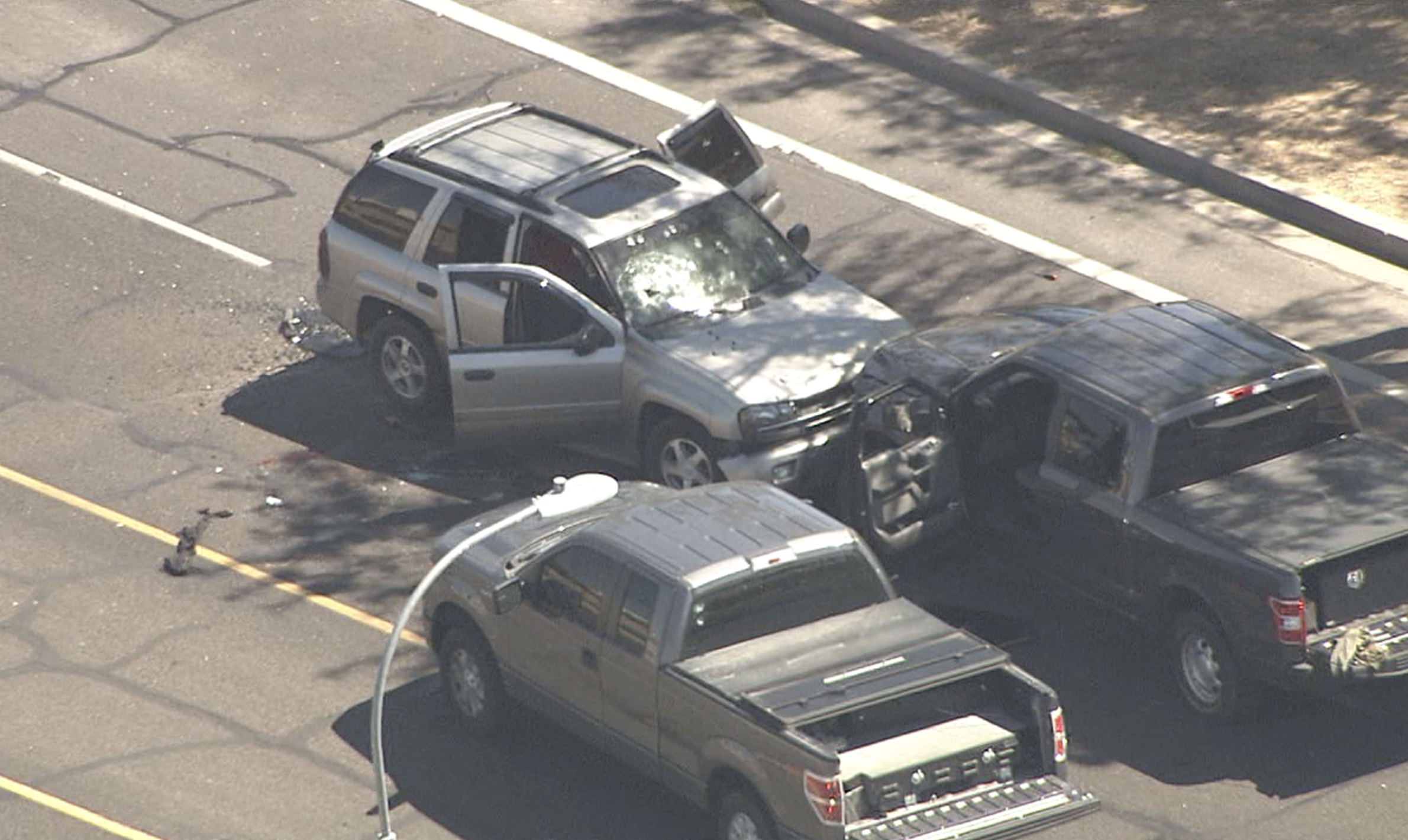 Footage from the scene showed an SUV with multiple gunshots through the front windshield and a pickup truck crashed through a wall separating a backyard from the roadway.
Phoenix police are investigating a double shooting involving federal agents in Ahwatukee. Witnesses describe hearing anywhere from 20-50 gunshots. One vehicle even seen crashing into someone's backyard. pic.twitter.com/o9NEELCsma

— John Trierweiler (@JohnTrierweiler) April 11, 2019
A federal law enforcement official familiar with the incident said the agents responded with force to protect themselves and others after confronting a life-threatening situation.
"In accordance with agency protocol, ICE's Office of Professional Responsibility is reviewing the incident. The agency will not comment further while this review remains ongoing," ICE said in a statement to ABC15.