PD: Jewelry store owner pistol whipped in Scottsdale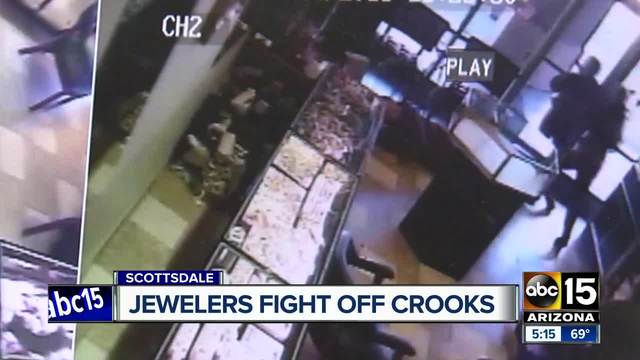 SCOTTSDALE, AZ - Officials are looking for a man and woman who robbed a jewelry store in Scottsdale.
Scottsdale police said two armed suspects entered Edmar Fine jewelry store near Frank Lloyd Wright and Via Linda boulevards on Friday morning.
Recognize them? @ScottsdalePD is looking for a man and woman that robbed a jewelry store and assaulted the owner, sending him to the hospital: https://t.co/pHF7b7V5QR #abc15 pic.twitter.com/G3P1P1jEff

— ABC15 Arizona (@abc15) January 6, 2018
According to police, the owner of the store, Edward Kheyfets was pistol whipped and transported to the hospital with a minor head injury.
Robyn Prince is dating Edward Kheyfets. They were both inside and co-own the store. Kheyfets opened Edmar Fine Jewelry 18 years ago with his late wife.
They both fought back against the robbers. Kheyfets grabbed the female suspect and used her as a human shield between he and his girlfriend and the man with the gun. Kheyfets was able to knock the clip out of the gun during the scuffle, but the male suspect hit him three times in the head with the gun handle.
"For me it was hard to see because I couldn't do anything to help him," said Boris Kheyfets, the son of the store owner. "The guy is like standing between the cases and the other person goes back to like try to get my dad to come to the front."
The suspects took off with an unknown amount of jewelry.
Police described the man and woman as white, in their early twenties, and wearing dark clothing.
The suspects were last seen running through the parking lot.