CASA GRANDE, AZ — Portions of Interstate 10 north of Casa Grande, between Phoenix and Tucson, were closed after multiple semi-trucks and vehicles were involved in a deadly crash, spilling various items and debris across the freeway, and causing a miles-long backup.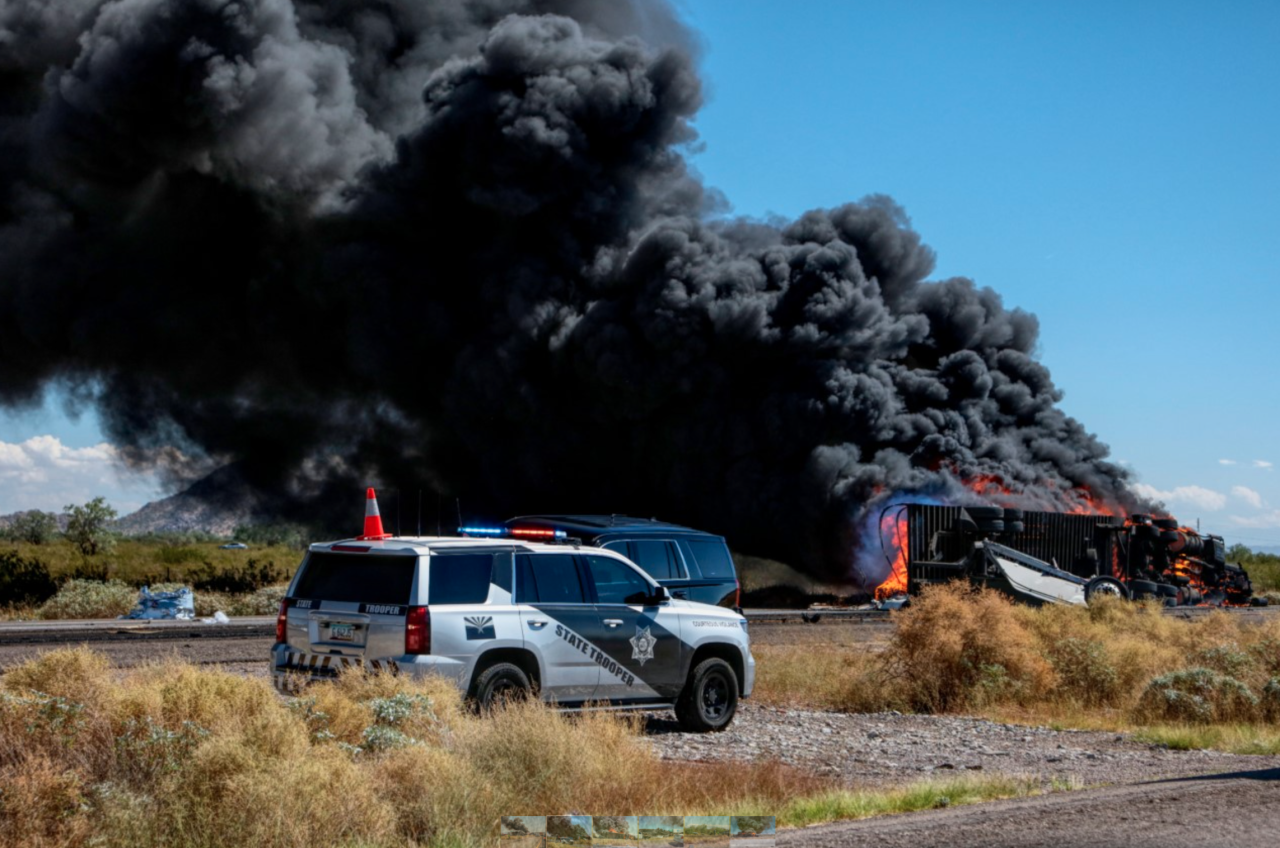 Westbound I-10 near milepost 188 and two eastbound lanes were closed for several hours. The roads reopened around 10:30 p.m.
Two people have died as a result of injuries they sustained during the crash and several other people were injured, said DPS spokesperson, Raul Garcia.
DPS said the driver of a semi-truck, who was traveling in the eastbound lanes for reasons unknown, traveled across the dirt median into the westbound lanes where it struck two semi-trucks, a box truck and two passenger vehicles, before bursting into flames.
The driver of the semi-truck that traveled across the dirt median died at the scene.
One of the semi-trucks that was struck came to rest off right and a passenger died at the scene, according to authorities.
The other semi-truck that was heading westbound spun and rolled on top of a box truck.
Three people were airlifted and four others were taken via ambulance to local hospitals for treatment.
"State troopers will maintain traffic restrictions in the area for several hours while they investigate the reason for the collision and clear the roadway," he said in a news release.
Air15 video showed at least two overturned semi-trucks and two overturned vehicles on the freeway and on the side of the freeway. Video also showed a lengthy backup of vehicles along the westbound lanes.
Colton Campbell was driving when he saw the crash happen. He pulled over and ran to the semi that was on fire.
Campbell didn't see anyone inside, so he kept moving, assisting another semi-truck driver that he says was pinned inside.
He tells ABC15 he also helped paramedics get an older woman out of an SUV.
Campbell says she was slouched over and had a broken ankle.
He says it all still feels unreal. "When I pulled up to the first time I could hear the liquids all coming out and then when I first ran up, I looked in the windshield. When I first looked in there I heard a tire blow in the back, one of the tires exploded, and then I could hear like sizzling. And then I saw the gas and then I heard the flames light up, and then everything engulfed," he said in disbelief.
Tom McGill says he was eating lunch when he saw smoke and heard a loud boom.
He initially thought it was a house fire in the neighborhood where his brother-in-law lives. As he drove over, he quickly realized the fire was coming from a semi on the freeway.
"It was crazy because cars were still driving north. Shut the freeway down yet. And this 18-wheeler was completely on fire. It appears to me that it came down the southbound lane, the eastbound lane and went over the median into the oncoming traffic and flipped," he told ABC15.