NASHVILLE, Tenn. (WTVF) — Noah Clare — the 3-year-old Gallatin boy who was the subject of an Amber Alert — has been found safe in California. His father, Jacob Clare, is in custody.
The Tennessee Bureau of Investigation tweeted the update Thursday, saying Noah had been found safe, along with his 16-year-old cousin, Amber Clare.
Jacob Clare is facing an aggravated kidnapping charge in Kentucky and an especially aggravated kidnapping charge in Tennessee, but could face further charges in California. He remains in custody at the Orange County Jail pending extradition back to Tennessee.
Law enforcement agencies shifted their attention to Orange County, California after a Subaru Legacy involved in the ongoing search for the boy was impounded on Saturday. The three were located in Dana Point, California on Thursday at 8:50 a.m. local time after a concerned resident, later identified as Julia Bonin, reported a young boy matching Noah's description to law enforcement.
Bonin was driving her son to middle school when she spotted the Clares walking along the Pacific Coast Highway. She said she initially didn't believe her eyes, thinking they would have left the area already, so she continued driving her son to school.
"I just want to say to everybody to trust your instincts, your gut, because I almost didn't act upon it," Bonin said. "I drove another half mile and as we pulled up to school where I was supposed to be volunteering this morning, I looked at my son and I said, 'I have to go back. I think it might be them, and I have to make sure.'"
Bonin said the surveillance photos released of the three taken in San Clemente helped recognize them.
Bonin decided to follow them to Doheny State Beach until law enforcement arrived. Jacob Clare was then taken into custody peacefully.
Orange County Sheriff Don Barnes said the agency is hoping to reunite Noah and Amber with their parents by Thursday night.
"I'll tell you what's surprising to me. I know we all see those freeway signs that say abduction alert and has details of a car, it's not very often where we get to come back on the news and say 'hey, guess what? We caught him.' That's a really good feeling," Barnes said.
Watch: Law enforcement officials give update on Noah, Amber and Jacob Clare.
Law enforcement update on Clare investigation
---
The TBI released a timeline of the manhunt after Jacob Clare picked up Noah from his house in Gallatin. On or around October 30, Clare bought a Subaru Legacy on Facebook Marketplace.
Then, on November 7, he was supposed to drop off Noah to his mother in Gallatin after a scheduled visitation. However, on that same day, a license plate reader spotted that Subaru in Arizona.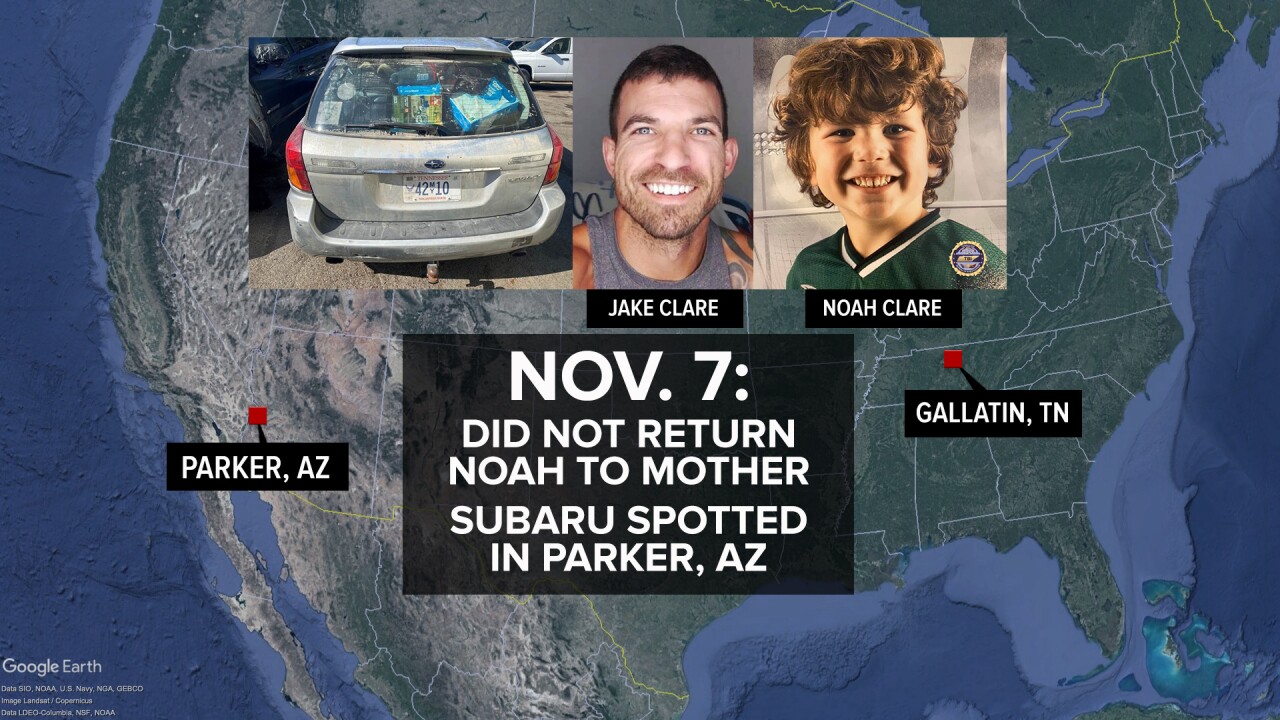 On November 11, a surveillance camera in San Clemente caught pictures of Jacob, Noah and Amber Clare.
This past Saturday, November 13, a tow company impounded the vehicle after finding it in the parking lot of a San Clemente, California outlet mall.
Then on Tuesday, the tow company alerted law enforcement that they had the car. The vehicle had stickers removed and was full of food supplies, like ready-to-eat meals, clothing and other items.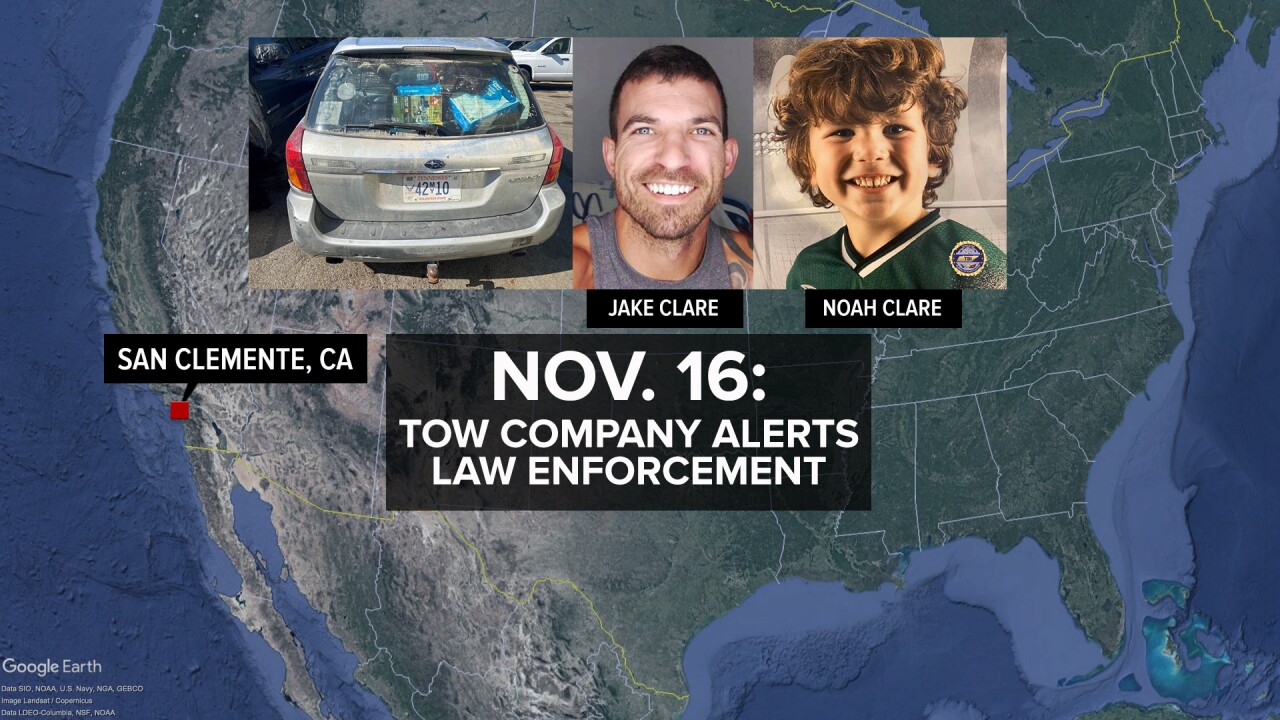 The TBI issued an Amber Alert for Noah on Tuesday. The FBI became involved in the case after it crossed state lines.