Everyone eats the cookie dough despite health officials berating the risks of salmonella.
But, it's just too good not to eat. You know?
As a result, cookie connoisseurs have hit the kitchen to develop cookie dough recipes that can be eaten without the risk.
The craze has finally hit the Valley.
The Dough Licious Food Truck hit the streets in 2017. Now two more businesses have plans to open physical stores in the Valley.
UNBAKED
Unbaked is a father-daughter business venture that opened its doors over the Father's Day weekend in Scottsdale. The upbeat store is decorated in pink accents and a plethora of cookie puns on the walls.
They have nine flavors of cookie dough, including two gluten-free and a vegan options. Flavors include chocolate chip cookie, sugar, cake batter, brownie batter, cookies and cream and peanut butter.
The gluten-free options are oatmeal cinnamon and peanut butter. They have a vegan chocolate chip dough that uses margarine instead of butter.
McKenzie June said she was inspired to open the business after visiting a friend in New York during a snow storm. She said while other restaurants had closed due to the weather, a cookie dough place stayed open and had people waiting in line.
"I thought, ya know, if people are willing to wait in a 30-minute line in the blizzard in New York City, maybe they'll wait in the heat out here in Arizona," she said.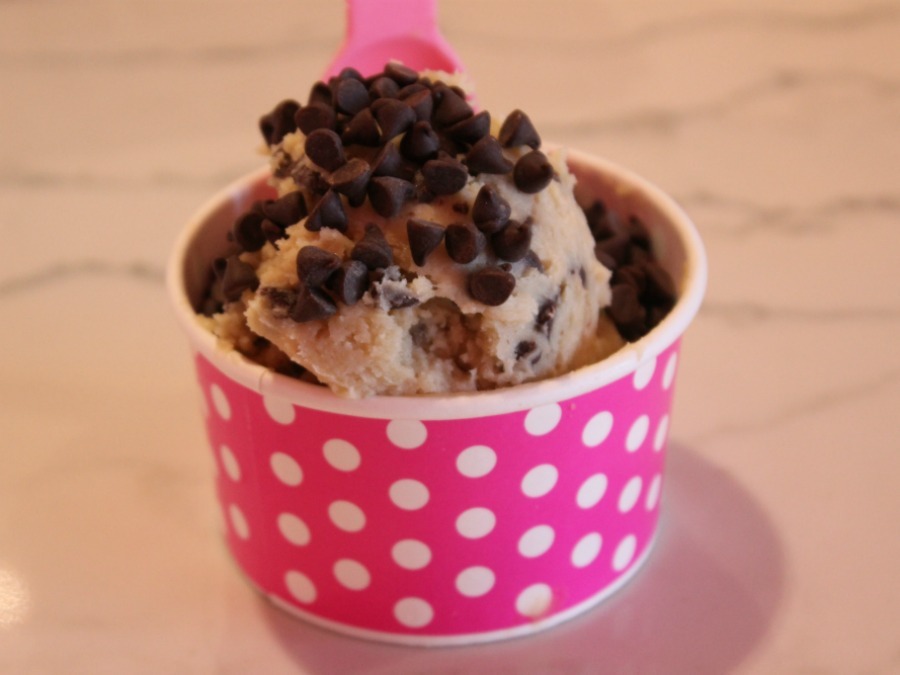 They also have a handful of ice cream flavors that they make themselves, just like the cookie dough. Flavors include strawberry shortcake, double chocolate malt, fruity pebbles, birthday cake and sugar cookie.
People can order cookie dough or ice cream by the scoop, mix them together, put them in a cup or cone, and cover them with various toppings.
They also have ice cream sandwiches that can be sandwiched between dough or baked cookies.
One scoop is $4.50. Two scoops are $7. Three scoops are $9. Toppings are $0.50. Ice cream sandwiches are $5.50.
McKenzie's father, Perry, said they hope to open five locations throughout the Valley, as well as expand into San Diego, California and Colorado.
SCOOPWELLS DOUGH BAR
Scoopwell's Dough Bar is another cookie dough concept from a husband-and-wife team that will open its doors this fall at Uptown Plaza in Phoenix.
"We've had our eye on Uptown Plaza ever since we arrived in Phoenix, so we're ecstatic that we now get to call it home," said co-owner John Scheer, who moved back to Arizona with his wife, Kendra, from New York.
They will have different safe-to-eat cookie dough flavors including chocolate chip, oatmeal M&M, sprinkled sugar and gingerbread. They plan to open in September.
Uptown Plaza is near Central Avenue and Camelback Road. It is home to Lou Malnati's, Shake Shack, Flower Child and Huss Brewing Company.
Another place to grab edible cookie dough is the Dough Licious Food Truck. Two friends, Brandi Airey, a former masseuse, and Angi Cicillini, a hair stylist, came up with the concept and hit the streets in 2017.
They have eight kinds of cookie dough, including one that changes seasonally. They can be found at different events and festivals around the Valley.