GILBERT, AZ — Families around the Valley will soon have another place for kids to jump, slide, and splash when the first phase of Gilbert Regional Park, the 272-acre recreational park under construction in Gilbert, opens next month.
In an exclusive interview and tour with ABC15, Gilbert Parks and Recreation Director Robert Carmona said the first phase of the park, which spans 30 acres near Higley and Queen Creek roads, would open to the public on Saturday, Sept. 21, 2019.
What to expect in phase one:

"The Mountain," a 35-foot-tall climbing and play structure with seven slides, including a 28-foot slide, and two zip lines.
"The Creek," a play area with less intimidating climbing structures and slides designed for the little ones.
"The Falls," a 4,000-square-foot splash pad with more than 50 water features, including two 25-gallon buckets that dump water every 30 seconds or so.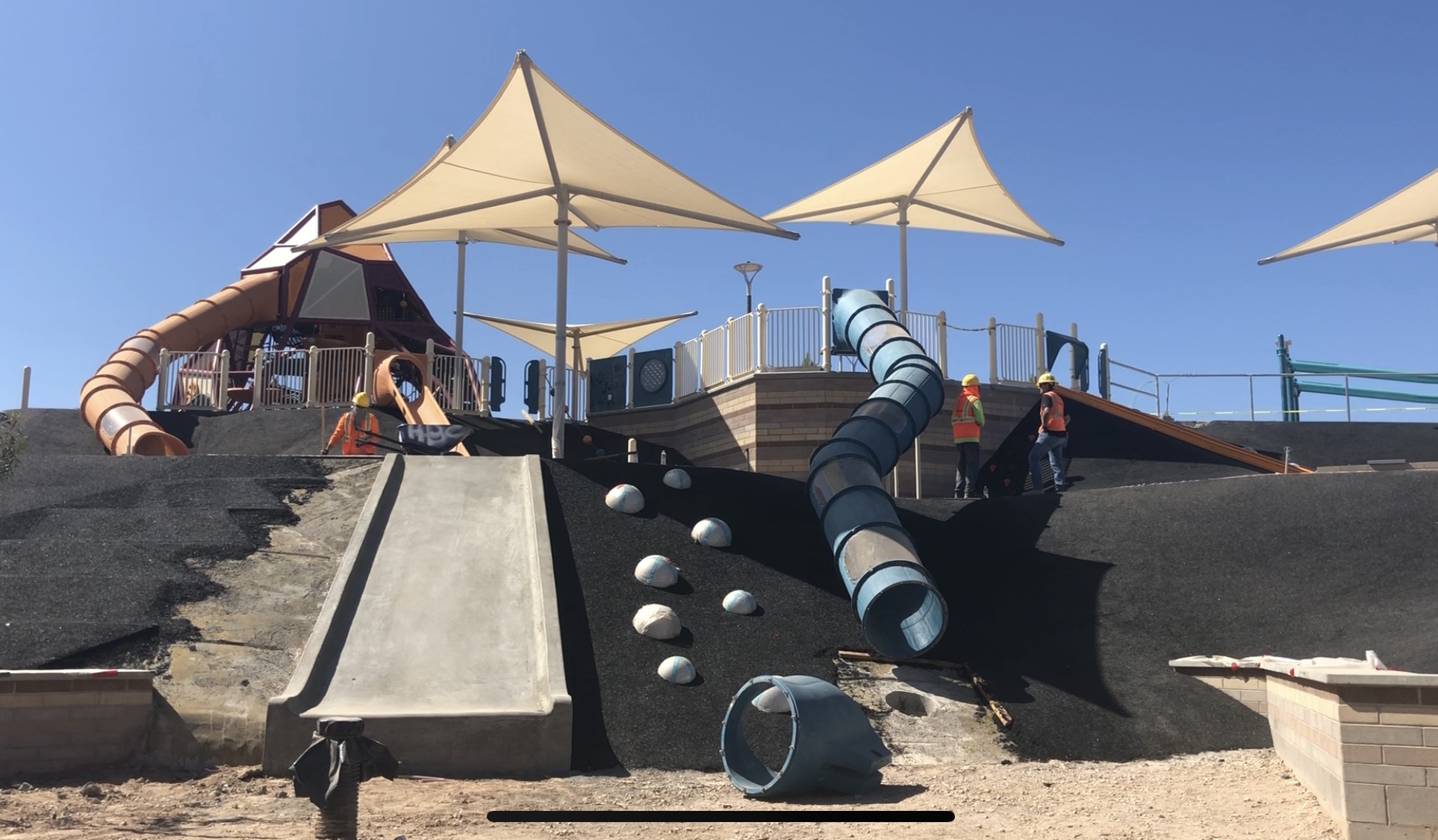 "It's an amazing feeling," said Carmona about the park's upcoming opening. "This started in 2014-2015 outreach meetings. A lot of feedback from the community went into designing the park that Gilbert wanted. It's exciting to be able to deliver that for the community so that when you see some of the most unique features you'll find in Arizona [they] will be at this park.
There are also six swings at the park, 10 shaded ramadas and picnic areas, bathrooms, and a lighted walkway.
There will be two grand opening celebrations on Sept. 21, 2019.

The first will be a beach-themed party from 8 a.m. - 10 a.m. with speakers, giveaways, and visits from the Gilbert police and fire departments. That evening, there will be the "Laser and Glow Party" from 6 p.m. - 9 p.m. with a laser light show, more giveaways, and glow sticks from the police and fire departments, the Town said. However, the park will be open all day.
In designing the park, Carmona said ensuring kids of all ages, abilities, and skill levels was important.
"We spent a lot of time working with groups and community reach out so that no matter what you're ability level is, you can use every aspect of this park, make it to the top of the mountain and make it down," he said. There are wide walkways to accommodate wheelchairs, specialty swings on the zipline and in the swing areas, and cushioned ground throughout the play area.
"Every time you go down, there are different ways to go back up. And within 'The Mountain' there are a lot of different play features, even climbing features, to get up and explore. Really the idea behind it is to be able to explore every time you come to the park. That each time you come to the playground you're going to have a different experience and be able to use it in a different way than you used it before," he said.
Much of the park remains under construction, but officials said it would be completed by the grand opening. In fact, Carmona said construction on the second part of phase one begins the day after the opening festivities.
"A lot more is coming on the way into 2020," he said.
The second part of phase one includes 16 tournament-level pickleball courts, six tennis courts, two basketball sports, six sand volleyball courts, a 7 1/2-acre lake and pavilion, and a 10-acre event area, said Carmona. Those additions are expected to be completed by September 2020.
The second and third phases of the park are still being designed and likely a couple years away.
Towards the front of the park is where The Strand @ Gilbert, the 25-acre skills-based water park, will be built. Construction has not yet started on that project, but we know that plans call for three lagoons with cable-propelled skiing, wakeboarding, and kneeboarding.
John McLaughlin, chief executive officer of Strand Resorts, previously told ABC15 that the park would have surfing, an obstacle course, a beach, swimming areas, kayaking and paddle boarding, and a full-service restaurant and bar. The water park is expected to open during the summer of 2021.
DESERT SKY PARK
Gilbert Regional Park is not the only new park coming to Gilbert.
Desert Sky Park, a 115-acre sports park, is currently being built along Power Road between Williams Field and Pecos roads. That park will have four collegiate-sized multi-purpose sports fields, a lake, and an "obstacle course-style playground," said Carmona.
Desert Sky is expected to open in October. An exact opening date has not been announced.
"Really one of our biggest needs in Gilbert is additional multi-use sports fields and so this park is going to go a long way in helping us get there," he said.
Back in February, the town opened Cactus Yard (formerly Big League Dreams), a multi-sports facility near Power and Elliot roads that features eight replica baseball fields, an indoor soccer field, and a full-service restaurant and bar.