Anyone have that friend who turns everything into a competition? It's usually with the most mundane activities like unloading the groceries, washing the car or raking leaves.
Well, we have another challenge to throw into the mix. Since this one involves food, what is there not to like?
We decided to look at a few of the craziest challenges around the Valley. So, these may not be professionally sanctioned events, but if you compete and win, you've earned the ability to brag.
(Please leave any, and all, digestive issues out of the bragging.)
Chompies' Ultimate Jewish Slider Challenge
Chompies – Ultimate Jewish Slider Challenge
You have 30 minutes to eat a dozen of Chompies' Jewish Sliders . Each slider is made up of brisket, potato pancake and cheese on a challah roll. Man v. Food's Adam Richman attempted the challenge in 2010. He lost. But, others have succeeded. View the winners here .
Dirtwater Springs
Dirtwater Springs – 72-ounce Challenge
Now that is a LOT of meat. You have one hour to eat a 72-ounce steak, choice of soup or salad, and choice of potato, vegetable and dinner roll. Good luck, buddy! You must call ahead to order and it's limited to one attempt per customer.
Angie's and Jimmie's Pizzeria
Angie's and Jimmie's Pizzeria – 28" Pizza Challenge
This challenge is perfect for pizza lovers—but it's a big one. You can have a friend help you out. You have one hour to devour a 28" pizza with three pounds of six toppings (3 your choice, 3 their choice) and four pounds of cheese. The pizza is made with three pounds of dough. Depending on the outcome, you either get your photo on the Wall of Fame (or shame). If you win, you get a free t-shirt and pizza.
Tom's BBQ – Full House Challenge
In the Full House challenge, you have 32 minutes to get through three house sandwiches, onion strings and curly fries. Each sandwich is made of ¼ loaf of French bread; pork, brisket and turkey, grilled onions, mushrooms, mozzarella cheese, sweet or hot peppers and Bordelaise sauce. Hats off to you if you can finish.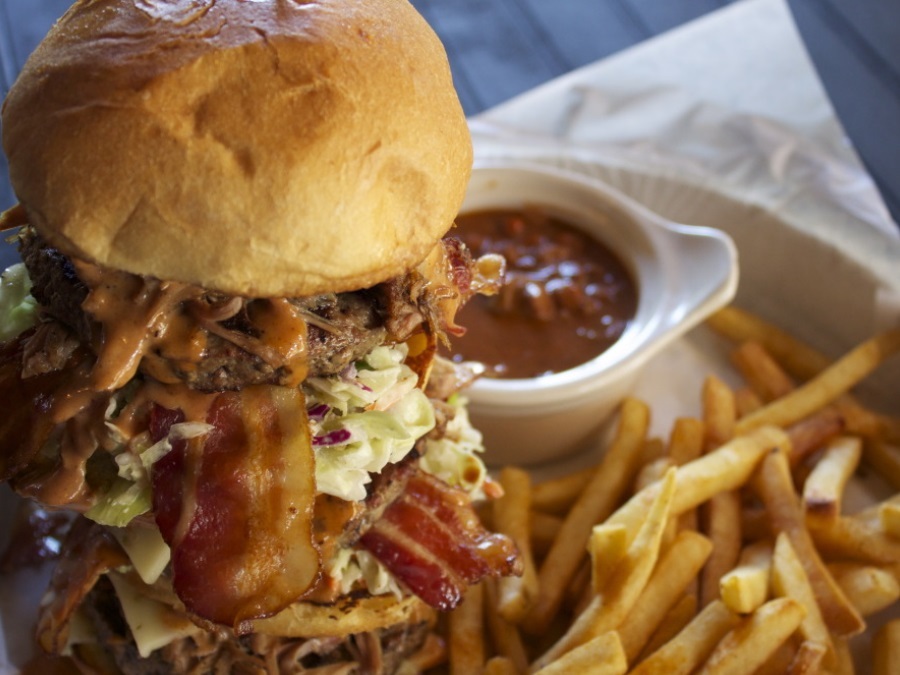 Porkopolis
Porkopolis – Brady Bacon Burger Challenge
If you love burgers and comfort food, you may want to take on this challenge. The Brady Bacon Burger is 1.5 pounds of burger (three ½ pound patties) stacked between pulled pork, jack cheese, jalapeño cole slaw and BBQ aioli. You have 45 minutes to eat the burger, a pound of fries and half pint of beans. If you win, you get a commemorative t-shirt and a photo on the wall. You lose…you pay up.
Wimpys Paradise – Belly Buster Burger
You have 30 minutes to take on the Burger Buster Burger. It's a 2.5 pounds of Angus/Chuck beef, four slices of Tillamook cheddar cheese, and two fried eggs on a pretzel bun.
Giligan's Scottsdale – 6 food challenges to choose from
Giligan's Bar in Scottsdale has six food challenges: The Old 96'er (2 pound burger, fries, pickles, Coke), The Corn Dog Challenge (20 county fair corn dogs), Tater Tot Challenge (family-size bag of tots), Colon Buster (2 dozen hot wings), Pizza Roll Challenge (144 in total), The Big Ern (13-egg omelet).
You have one hour to complete the 96'er, Corn Dog, Tater Tot, Pizza Roll and Big Ern challenges. The Colon Buster has to be finished in 10 minutes. Good luck!
IL Primo Pizza and Wings
IL Primo – 30" pizza or hottest wings
Pizza Challenge: Grab a friend and make sure you're hungry because you have one hour to eat a 30" pizza topped with a couple pounds of cheese. If you win, you get your picture on the Wall of Fame and free pizza for a year. Lose? Welcome to the Wall of Shame and a bill.
Wing Challenge: These are some hot wings. All you have to do is finish them. Do that, you get on the Wall of Fame. If you fail, you're on the Wall of Shame and get a bill.
Papi Chulo's Cantina
Papi Chulo's Mexican Grill & Cantina – Big Papi Burrito Challenge
You have 30 minutes to tackle a six-pound, two-ounce Big Papi Burrito. That is all.
Venezia's Pizza Party Challenge
Venezia's Pizza – Party Pizza Challenge
Bring a friend for this challenge because you both have two hours to finish a 24-inch party pizza. If you win, you get a photo on the Wall of Fame and a t-shirt.
Did we miss one? Let us know in the comments.