April restaurant openings: 17 new eateries to try around Phoenix
Need a new place for lunch or dinner? Check out the new restaurants that opened around the Valley in April.
Handlebar Diner - Chef Adam and business partner Kyle Hollenbeck have opened a farm-to-table diner within Mesa's Eastmark community. The Handlebar Diner is a 1950's Valentine Diner. The dining room extends out to the front lawn where there are a handful of community picnic tables.
Photo by: Handlebar Diner
Handlebar Diner - The farm-to-table diner's menu has breakfast, lunch and dinner favorites. Dishes include loaded housemade tater tots, lobster roll sliders, nachos, burgers, chicken sandwiches. The diner is at 5149 S. Inspirian Parkway, Mesa AZ 85212. View www.handlebardiner.com for details.
Photo by: Handlebar Diner
Chico Malo - Translated to "bad boy" in Spanish, Chico Malo is one of the newest Mexican restaurants to join downtown Phoenix's CityScape plaza. It is the latest concept from newly-formed Culture Shock Hospitality.
Photo by: Chico Malo
Chico Malo - The menu features a variety of South American cuisine like Chilaquiles, tortas and tacos. In fact, Chico's menu has nine varieties of tacos. There is also salads, nachos and tostadas. Read our story on Chico Malo . The address is 1 E. Washington Street, Phoenix AZ 85004. It is located beneath Copper Blues.
Photo by: Chico Malo
Original ChopShop - Scottsdale-based Original ChopShop expanded to Queen Creek in April. The newest eatery can be found at 21227 S. Ellsworth Loop Road. The healthy, build-your-own-bowl concept also announced plans to open three more locations in Arcadia, Paradise Valley and North Scottsdale this year, though exactly where each of the locations would be were not announced.
Photo by: handout
The Stand - The Phoenix burger-and-fry joint has opened a second location in the Valley. The "Grande" Stand can now be found at Scottsdale's Village at the Shae Shopping Center near Shea Blvd. and Scottsdale Road.
Photo by: TheStandAZ/Instagram
Even Stevens Sandwiches - The Utah-based sandwich chain opened its fifth shop in the Phoenix area. The "sandwich shop with a cause" donates a sandwich to local charities for every sandwich bought. The newest location opened in Arcadia at 3950 E. Indian School Road.
Detroit Coney Grill - If you've spent time in the Detroit area, you know what a Coney Dog is. Detroit Coney Grill opened a third location bringing Coney dogs, pitas, gyros and Greek salads to its customers. With locations in Tempe and downtown Phoenix, DCG's new location is in the food court of Mesa's Superstitions Springs Center.
Photo by: Detroit Coney Grill
Photo by: Josh Frigerio, ABC15
Gino's East - The Chicago pizzeria's menu features Chicago's famous deep-dish pizza, thin-crust pizza and other favorites such as the Italian Beef sandwich and Chicago-style hot dog. Like its locations in Chicago, guests will be able to leave their signature on the walls. Gino's East can be found at 3626 E. Indian School Road, Phoenix AZ 85018. See the inside .
Photo by: Josh Frigerio, ABC15
Hearth '61 at Mountain Shadows - Hearth '61 is the signature restaurant at Mountain Shadows, the newly-opened and re-built resort in Paradise Valley. In its prime, the resort hosted Hollywood A-listers. Eventually, it closed and was torn down. It has since been rebuilt and modernized. The restaurant gets it name from the hearth in the kitchen used to cook the food. The "61" refers to 1961, the year Paradise Valley was incorporated.
Photo by: Josh Frigerio
Hearth '61 at Mountain Shadows - The kitchen is led by chef Charles Wiley and serves American cuisine. The dining room is bright and has floor-to-ceiling windows that overlook the resort's pool and juice bar, and Camelback Mountain in the background.
Photo by: Josh Frigerio
Aloha Poki Company - The Hawaiian seafood dish, Poke, has been the latest food craze to take over the Valley with shops popping up left and right. Aloha Poki Company is another one to add to your poke list. The Poke shop opened its doors at 15425 S. 48th Street, near 48th Street and Chandler Blvd.
Photo by: Aloha Poki Company/Facebook
DK Dogs - The Phoenix-based Danish hot dog stand opened a brick-and-mortar location in April. Owner Glen started with two hot dog carts. The specialty "DK" dog is a hot dog served not in a bun, but in a hallow French baguette.
Photo by: Food and Lifestyles, DK Dogs
DK Dogs - A Danish-style hot dog includes mustard, Ketchup, remoulade (a French condiment), raw onions, fried onions, pickled cucumbers. The storefront is located at 12th Street and Highland.
Photo by: Food and Lifestyles, DK Dogs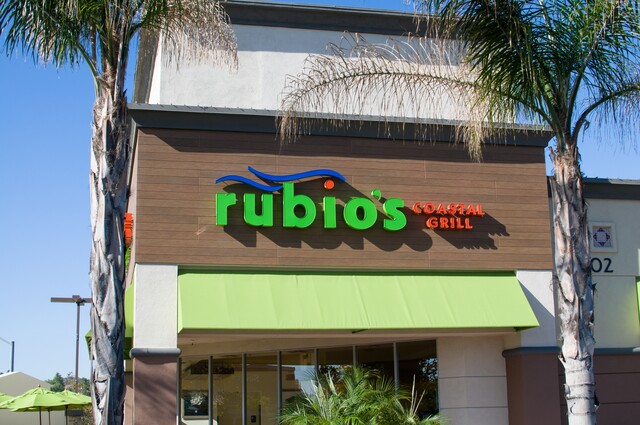 Rubio's Coastal Grill - Rubio's opened a new eatery in the shopping center near 7th Avenue and McDowell Road. The fast-casual eatery serves fish tacos, quesadillas, salads and burritos. The concept recently began renovating its restaurants with an updated look.
Photo by: Sipper Photography/Rubio's
Pollo Loco - Fast-food chicken chain Pollo Loco opened a new location in Glendale, Arizona in April. It marks the chain's third location in Glendale. The eatery can be found at 4302 W. Cactus Road, Glendale AZ.
Photo by: Pollo Loco
Naked BBQ - One of Arizona's barbecue restaurants expanded to Scottsdale in April. The Scottsdale location, known as "NakedQ," opened at 10240 N. 90th Street. The BBQ eatery has all of the essentials, pulled pork, chopped brisket, pulled chicken, hot links and platters. Don't forget the Southern-style sides like Carolina Slaw, mac-and-cheese, potato salad, corn bread and beans.
Photo by: Naked BBQ
Blaze Pizza - The fast-casual, make-your-own-pizza concept opened another restaurant in the Valley in April. Blaze Fast Fire'd Pizza opened at 5120 N. Central Avenue. The 2,500-square-foot restaurant has 126 seats, both inside and out. Guests choose their sauce and toppings before its cooked in minutes in a high-heat oven.
Photo by: Blaze Pizza
Huss Brewing Co - The Tempe-based brewery opened a second location -- a taproom -- in Phoenix's bustling Uptown Plaza in April. It was founded by Leah and Jeff Huss. "We wanted to create a comfortable space where people can relax, sip our beers and enjoy food from a multitude of area restaurants," said Leah in a news release on the grand opening.
Photo by: Huss Brewing Co.
Huss Brewing Co - The taproom serves Huss' own beers, as well as beers from Papago Brewing Company whose brands were acquired by Huss last year. The taproom will have bar snacks, as well as small bites from neighboring restaurants such as Chicago pizzeria, Lou Malnati's and New York-chain Shake Shack. Uptown Plaza is at 100 E. Camelback Road, Phoenix AZ 85012.
Photo by: Huss Brewing Co.
Tavern+Bowl Westgate - The California-based bowling alley opened its first out-of-state location at Glendale, Arizona's Westgate Entertainment District. With it, it also launched the concept's nanobrewery, Good Bad Ugly Brewing Co. It also has a from-scratch kitchen serving burgers, apps and sandwiches.
Photo by: Tavern+Bowl
Tavern + Bowl Westgate - There are twelve bowling lanes, plus shuffleboard and billiard tables. The concept had a "soft" opening in April, but has planned a grand opening for May 18. The bowling alley joins Dave & Buster's and AMC Theatre as Westgate's entertainment options. Details . It is located at 6770 N. Sunrise Blvd., Glendale AZ 85305
Photo by: Tavern+Bowl
Ahipoki - in April, Ahipoki opened its first Phoenix location, its fourth Valley-wide. Poke is a Hawaiian-based dish that is essentially rice or mixed greens topped with sushi-grade raw fish.
Photo by: Ahipoki
Ahipoki - Guests choose a base, a protein, various toppings and a sauce. The poke restaurant's newest location is at 7th Avenue and McDowell, 1515 N. 7th Avenue, Phoenix AZ 85003.
Photo by: Ahipoki