The Arizona State Fair is almost here and that means the smells of roasted turkey legs and deep-fried corn dogs and other sugary treats will soon fill the air.
We're getting a sneak peek at some of the new items and returning signature items people can expect at this year's fair, which runs Oct. 5-28 at the Arizona State Fairgrounds.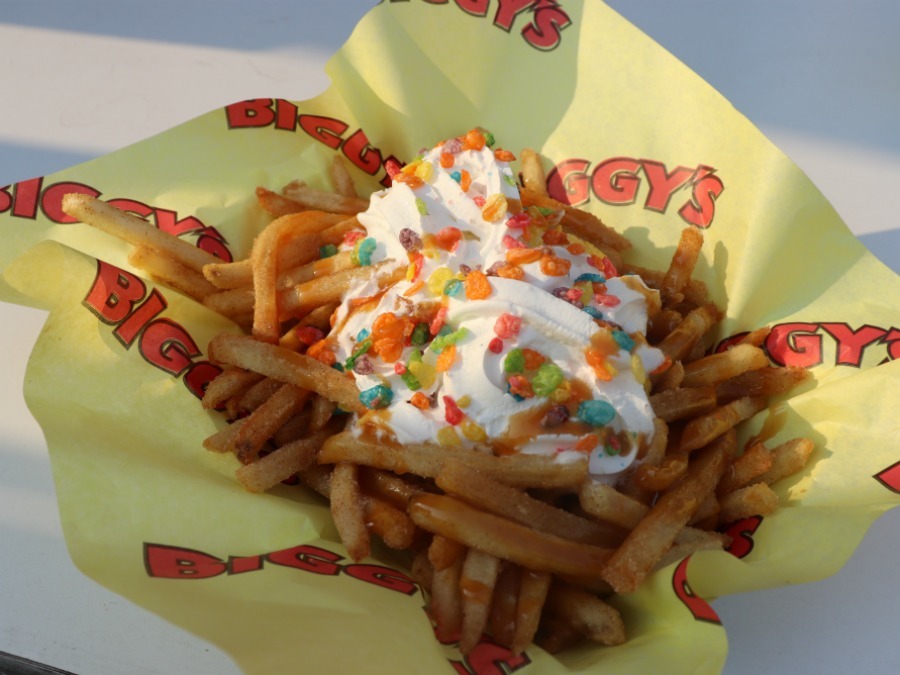 Handout/Arizona State Fair
Caramel Crack Fries
A new item this year, these fries are tossed in butter and sprinkled with cinnamon and sugar and topped with sea salt caramel sauce. It is then topped with a pile of whipped cream and Fruity Pebbles cereal. They will be available at the Biggy's stand.
Handout/Arizona State Fair
A bucket of cookies
That's right. You now have the option to walk around the fair with a bucket of cookies. We're told they'll be available at the new Totally Baked Cookie Joint booth. They will also have ice cream cookie sandwiches and the "Big Skillet," a chocolate chip cookie topped with vanilla ice cream and chocolate syrup.
Handout/Arizona State Fair
Mythical floats: Unicorn Float, Orange Dream Float, Mermaid Float
The Candy Factory booth will have three new soda floats at the Arizona State Fair, we're told. Each one is topped with whipped cream, sprinkles and different candies.
Unicorn Float: Blue raspberry soda topped with whipped cream, sprinkles and cotton candy.
Orange Dream Float: Orange soda topped with whipped cream, sprinkles, sour orange slice candies, and orange cotton candy.
Mermaid Float: Blue coconut and lime soda topped with whipped cream, sprinkles, sour candy strips, LIfe Savers gummy candy, and sour green apple cotton candy.
Handout/Arizona State Fair
Spicy Turkey Leg
Giant turkey legs seem to be a staple at any fair, festival or theme park. Some are served crispy and dry, while others have been wrapped in bacon. This year, the fair is introducing a spicier version of the turkey leg. According to a news release, it is made with a Chahula hot sauce-inspired marinade and "injected with the perfect blend of spice."
Handout/Arizona State Fair
Flamin' Hot Cheetos corn-on-the-cob, cotton candy, fries
Like things spicy? Biggy's is back with more foods covered in Flamin' Hot Cheetos. That includes an ear of corn topped with Cheetos crumbles and cheese. Also, cotton candy, pizza, fries and chicken wings, organizers said.
Besides the food, Ray Cammack Shows will debut three rides at this year's fair. Pitbull, The Wallflowers, The Flaming Lips, Paulina Rubio, and Big & Rich are scheduled to perform during this year's concert series. All concerts are included with fair admission. Reserved seating can be purchased.
The Arizona State Fairgrounds are near 19th Avenue and McDowell Roads in Phoenix. General admission is $7-$10. Though, there are a number of discounts/promotions that offer free admission.