11 new restaurants, businesses coming to Scottsdale Promenade in 2018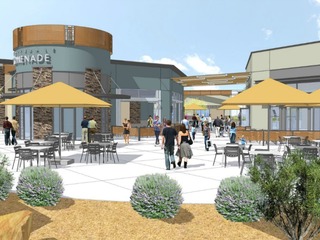 SCOTTSDALE, AZ - After a year of renovations, including a fresh coat of paint and the addition of a building, The Promenade shopping center in north Scottsdale has nearly a dozen new restaurants and businesses, that have already opened or opening this year.
Here is a quick look at what's new, and on tap, for the shopping center:
New restaurants:
Blaze Pizza: A fast-casual pizza chain backed by Lebron James. They have six locations in the Valley, plus one in Tucson. It is now open.
Thai Chili 2 Go: The East Valley Thai restaurant expanded north to Scottsdale with its fifth restaurant. It is now open.
Original ChopShop: Launched in Arizona, the health-focused restaurant chain serves protein and acai bowls, and juices. It is slated to open in early March.
Modern Market: A Colorado-based restaurant that made its debut last year with restaurants in Ahwatukee and Scottsdale near Fashion Square Mall. It plans to open at The Promenade in early March.
LemonShark Poke: A restaurant chain that serves poke, a Hawaiian salad topped with raw fish and other toppings.
New businesses:
Deka Lash: a business that offers eyelash extensions. It is now open.
Wine & Design: A painting studio that offers two-hour painting classes with step-by-step instructions. Wine is allowed. It was also featured on ABC's Shark Tank. It is open now.
Verizon Wireless: A wireless carrier. It is scheduled to open later this year.
V's Barbershop: A national barbershop chain with more than a dozen locations in Arizona. The barbershop is slated to open later this year.
Pacific Dental Services (Dentists of Scottsdale): a dental clinic that opened in November 2017.
Anytime Fitness: a 24-hour fitness center opening later this year.
The Promenade is owned by ShopCore and location near Frank Lloyd Wright and North Scottsdale Road. ShopCore also owns Lake Pleasant Pavilion in Peoria, Arizona.
IF YOU GO:
The Promenade Scottsdale
16215 N Scottsdale Rd. Scottsdale, AZ 85254
http://scottsdalepromenade.com/
Editor's note: This article was updated to include when Dentists of Scottsdale opened, based upon new informaiton.