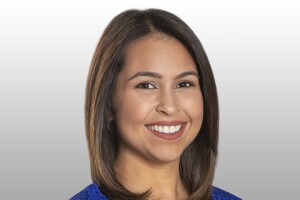 Nicole joined ABC15 in August of 2018.
She comes from sunny (and stormy) Southwest Florida, where she started her journalism career at WINK News. There, she tackled some of the biggest stories in the state, and even some that made a national impact.
Nicole was one of the first reporters to cover the tragedy in Parkland, Florida, where 17 students were killed. She's helped desperate mothers searching for their children get answers and find peace. She was also front and center, covering the major impacts of Hurricane Irma, and even traveled the country to follow the path of an accused murderer on the run.
Nicole's passion lies in finding the truth. She digs deep and always wants to help. She knows every story starts with a simple question; that's all she needs to start connecting the dots. She's now bringing that same curiosity and passion to Phoenix.
Nicole studied and earned her Bachelor's degree at the University of Florida (Go Gators!), graduating in 2015.
She's a Puerto Rican who's proud of her heritage and still has family on the island. She was raised in Miami but happy to be trading palm trees for saguaros in the Valley, and could not be more excited to take on this new adventure.
When she's not at work, you'll probably find her on the road, looking to discover something new, or spending time with friends. If you ever see her, never hesitate to say hello. She loves meeting new people and is always looking or suggestions on where to visit next.
Feel free to follow Nicole on Facebook or Twitter @NicoleValdesTV or email her at Nicole.Valdes@abc15.com