Monsoon 2020 officially ends Wednesday, but many are asking, "Did it really ever begin?"
For Phoenix, this was the least active monsoon on record with only two days of measurable rainfall at Phoenix Sky Harbor International Airport.
It will not go down as the driest on record in Phoenix, though.
One of those stormy nights brought a downpour of 0.90 inches of rain bringing our seasonal total to 1 inch. That night saved this monsoon from being the number one driest, pushing it down to the 12th driest on record.
This was also the fifth year in a row with below-normal monsoon rainfall.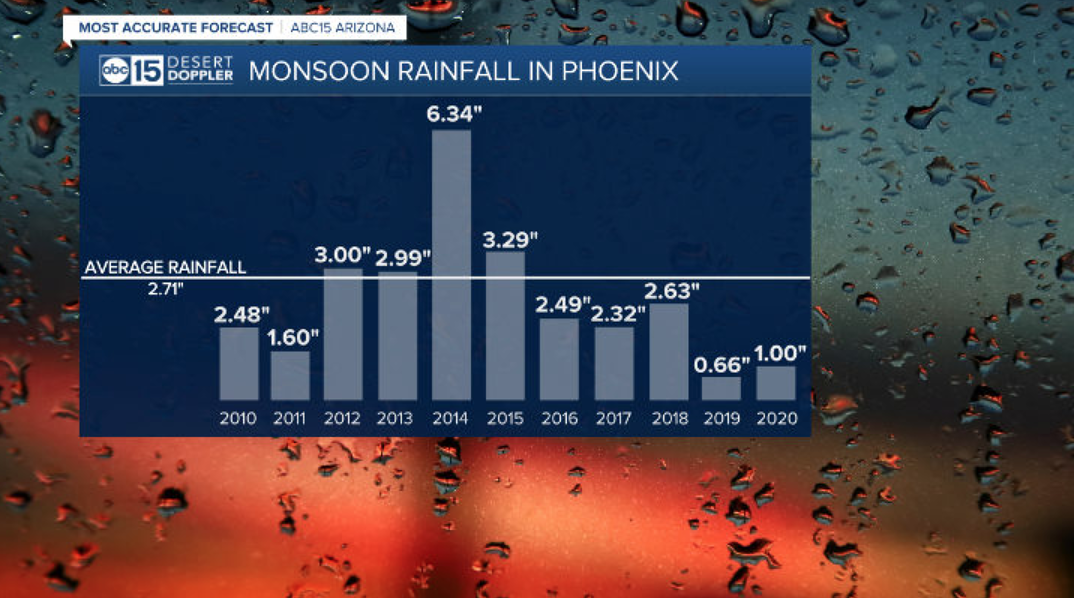 Across our state, many other Arizona cities saw their driest monsoon on record. That includes Yuma and Lake Havasu City which got absolutely no measurable rainfall.
Flagstaff, Show Low, Williams, Window Rock and Prescott also had the driest monsoon on record. Here's a look at the numbers across northern Arizona from the National Weather Service in Flagstaff.
So what went wrong?
During the monsoon, a ridge of high pressure normally sits near the Four Corners bringing moisture in from the south. This summer that ridge was often not in the right spot or it was way too broad which blocked the moisture from coming in.
Scientists actively researching how climate change is already impacting our monsoon, like Christopher Castro at the University of Arizona, say this could continue to be a problem for us as our planet heats up.
"Long-term, the monsoon ridge has been stronger and broader. So when the monsoon is inactive (i.e. the ridge is in the 'wrong place' for it to rain here), then conditions would be expected to be even drier and hotter here because of the increased subsidence with this stronger ridge," Castro wrote in an email.
Our monsoon also relies on disturbances, called inverted troughs, to help provide the instability needed to get storms going. These often pass through southern Arizona and northern Mexico and help initiate thunderstorm development. But, Castro says climate change is affecting those, too.
"Our paper on that showed a shift of the inverted troughs farther south with the intensified monsoon ridge. So probably the absolute number of them won't change, but certainly they are becoming less frequent in the vicinity of Arizona. So this means big convective outbreaks will generally become more infrequent, but we will realize more intense rainfall with them when they do occur," Castro wrote.
That's exactly how this year played out: fewer stormy days, but more extreme downpours when storms did hit.
With longer periods of time between rainfall, our drought gets worse.
We headed into this monsoon with only 13 percent of our state in drought and we are leaving it with 100 percent of our state in drought.
Chances are we could have a dry winter, too. La Niña is now in effect and that typically drives the jet stream (the steering wheel for storms in the upper atmosphere) too far north to bring winter storms into Arizona.