Black Bear Diner serving up Homemade Spaghetti to benefit AZ Myeloma Network Charity Day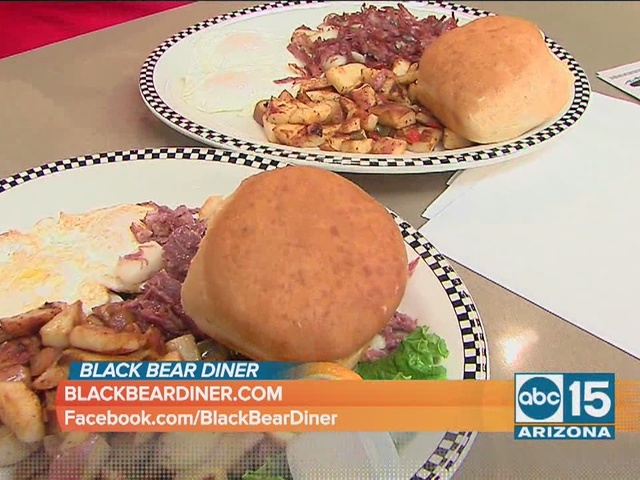 Black Bear Diner is a paid sponsor of Sonoran Living

In 1995, Bob and Laurie Manley and Bruce Dean created the first Black Bear Diner in Mt. Shasta, CA. According to Dean, "The Black Bear theme was a natural fit. Black bears are native to Mt. Shasta, and they used to enjoy the berries in the town's vast strawberry fields. Our first diner sits on the site of these fields frequented by Black Bears."

Unlike most family restaurant menus that sport pages of slick, glossy food photos alongside predictable menu descriptions, Black Bear Diner's menus, printed on newsprint, resemble small town newspapers. Reprints of local articles and ads from the early 1900s are featured on the front and back pages for each dinner. "The newspaper menu format reinforces the heritage of each restaurant's community," according to Dean.

Inside the menu enticing descriptions of the food interspersed with Black Bear wit belie the need for photos. Top selling, Bob's Big Bear Burger "is not for the bearanoid," the menu boasts. With three-quarters of a pound of seasoned ground beef, special sauce, grilled onions, tomatoes, lettuce, pickles & mayo, and a big knife speared through the center to hold it together, it delivers on its promise.

"If you didn't say 'Wow' when you got your meal, you probably ordered toast," is what Dean and Manley have been telling guests since they opened. "We are committed to serving huge bearlike portions of fresh homemade food, delivering both quality food at a great value."

Other Black Bear menu draws include: The Big Foot (three-quarter pound) Chicken Fried Steak, Huge Homemade Bear Claws, Giant fresh baked Biscuits, Chicken Pot Pie, Chicken Caesar Sandwich, Old Fashioned Meatloaf with Brown Gravy, and Black "Beary" Cobbler. "We not only have a big menu," points out Dean, "but you can order breakfast anytime of day."
For more information visit: www.BlackBearDiner.com or check out their Facebook page at www.Facebook.com/BlackBearDiner

Here is a list of Black Bear Diner's in the Greater Phoenix area:

Glendale
6039 West Bell Road
Glendale, AZ 85306
(602) 843-1921

Gilbert
1809 E. Baseline Road
Gilbert, AZ 85233-1543
(480) 926-2046

Goodyear
980 N Dysart Road
Goodyear, AZ 85338
(623) 932-2968

Coming SOON

Chandler (Opening late 2015)
2805 S. Alma School Rd.
Chandler, AZ
Las Tiendas Shopping Center

Tempe (Opening Mid 2016)
Priest & Elliot Rd.
Tempe, AZ

Other ARIZONA locations:
Lake Havasu
Bullhead City

Black Bear Diner is a paid sponsor of Sonoran Living

Come See Sonoran Living Live!
Sonoran Living is looking for LIVE studio audiences! Reservations are available for FREE via e-mail: slviewers@abc15.com.
Taping schedule: The show airs live daily. Currently we are only booking audiences for the first Friday of the month. Sign up for our audience! Please send us an email with name(s), date you would like to be in the audience, contact person, e-mail and contact phone number.
What are the age requirements? You must be 18 years or older to attend a taping of Sonoran Living Live.
Should I bring my ID to the studio? Yes, you must have a valid photo ID to enter the studio.
How many seats can I reserve? Group tickets are available.
How long will the taping last? The show will air live for one hour from 9 a.m. to 10 a.m.
What time do I need to arrive for the taping? 8:30 a.m. Late-comers will not be admitted.
Where is the studio? ABC15 Studios, 515 N. 44th Street, Phoenix, AZ