Let's Go Places in Arizona: Cool off at Canyon Lake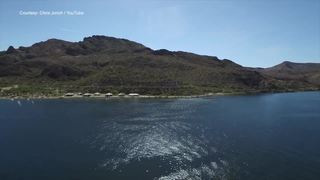 Just hop in the car and drive! Less than an hour from Phoenix is the unspoiled beauty of Canyon Lake!
It's the gateway to one of the most scenic drives in Arizona: Apache Trail. From the rolling desert to the high cliffs, this beautiful southwest backdrop will not disappoint.
Whether you need a mini-vacation or just an afternoon getaway, this is the perfect spot to cool off.
Canyon Lake is the smallest of the Salt River Lakes, but it's by far the most picturesque. This popular spot is known for its 28 miles of shoreline along the Red Rock Cliffs, some of which are only accessible by water.
If you love camping or water sports, this is the place for you! You can boat or jet ski across 950 acres of sparkling water. Prefer solitude? You can always tuck into a secluded cove to fish.
You can even take a dinner cruise down the winding waterways on the Dolly Steamboat and marvel at the scenery.
And if you're lucky enough to be here during sunset, you'll see the canyon walls come alive!